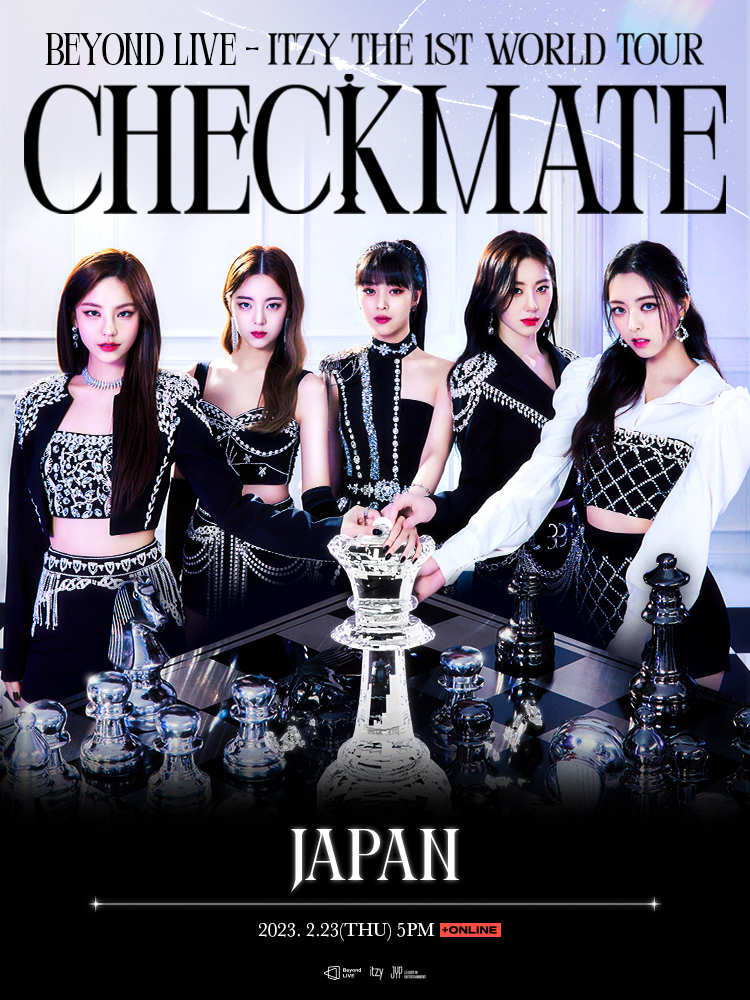 공연개요
- 공연명: ITZY THE 1ST WORLD TOUR <CHECKMATE> in JAPAN
- 공연일시: 2023년 2월 23일(목) 17:00 (KST)
- 관람등급: 만 7세 이상 관람가
- 티켓가격: LIVE ONLY 49,000원 (VAT 포함)
- 생중계 및 예매처: Beyond LIVE (https://beyondlive.com)
* 본 상품은 Multi-View, VOD, Re-Streaming 서비스를 포함하지 않습니다.
* 본 상품은 일본 지역에서 구매와 시청이 모두 불가합니다.
티켓 판매 기간
- 2023년 2월 13일 (월) 15:00 (KST) ~ 2023년 2월 23일 (목) 18:00 (KST)
예매 주의사항
- 티켓 구매는 1개 계정당 1매 구매 가능합니다.
- 본 온라인 공연은 Beyond LIVE 단독 판매로 진행되며, 그 외 경로로는 판매하지 않습니다.
- 리딤코드의 불법 양도 및 중고 거래 등의 위법 행위는 금지하고 있으며 불법 경로 구매로 인해 발생한 피해에 대한 책임은 전적으로 구매 당사자에게 있습니다.
Performance Information
- Title: ITZY THE 1ST WORLD TOUR <CHECKMATE> in JAPAN
- Date: February 23, 2023 (Thu) 17:00 (KST)
- Age limit : 7 years and over
- Ticket Price: LIVE ONLY 45 USD (VAT included)
- Ticket Sales & Broadcasted live on Beyond LIVE (https://beyondlive.com)
* This performance will not provide Multi-View, VOD service and Re-Streaming service.
* This performance is not available for purchase and viewing in the Japan region.
Ticket Sales Period
- February 13, 2023 (Mon) 15:00 (KST) ~ February 23, 2023 (Thu) 18:00 (KST)
Ticket Reservation Precautions
- Each account can only purchase one ticket.
- This online streaming ticket will be sold exclusively through Beyond LIVE and will not be sold by any other ticketing agency.
- Illegal activities such as transferring redeem codes to another person through unauthorized methods or purchasing the ticket through any unofficial means are prohibited. Please be aware that you are solely responsible for any damages or harm that result from the use of illegal ticketing websites, or unauthorized reservation services from any unauthorized parties.
* 本公演につきまして、Beyond LIVEでの日本地域でのチケット購入と公演視聴はできません。
- 公演名: ITZY THE 1ST WORLD TOUR <CHECKMATE> in JAPAN
- 公演日時: 2023年 2月 23日(木) 17:00 (KST)
※ Beyond LIVEでは日本居住ユーザー様へのチケット販売およびオンライン配信サービスの提供はございません。